You are out of your to – go cleaners? There are other ingenious ways to keep your home neat and clean. The latest trend on the internet is doing your housework by using food. At first it may sound "cray cray" but it actually works. Plus it saves you money from cleaning products, while reducing your waste and minimizing the exposure to volatile chemicals. Although these ingredients cannot completely replace the conventional cleaners, they will save you when the going gets rough.
If you want to make professional flawless home cleaning with everyday products, here are some tipps and tricks for you!
Get Rid Of the Grease
Greasy spills on your carpet or favourite shirt? Yaks! You need to act as quickly as possible. You can do your laundry in the middle of a party or other event. Instead, you should work with what you have. There are two options –cornmeal and salt. Cover the spot with one of these foods and let them soak the grease. Leave the ingredient for around 20 minutes and then vacuum it.
Polish Your Stainless Steel
Stainless steel is great because it requires minimal maintenance and looks edgy. There is one problem. It makes fingertips and other marks pretty visible. Fear not! Bring the original shine of your stainless steel appliances by polishing them with olive oil.
Remove Marks from Wood Furniture
The dreadful marks on your wooden furniture are grinding your gears? No need to visit the decor store. Breathe new life to your damaged furnishing by rubbing the scratches with walnuts. This nutritious food contains natural oils. When they soak into the wood, they heal the damage.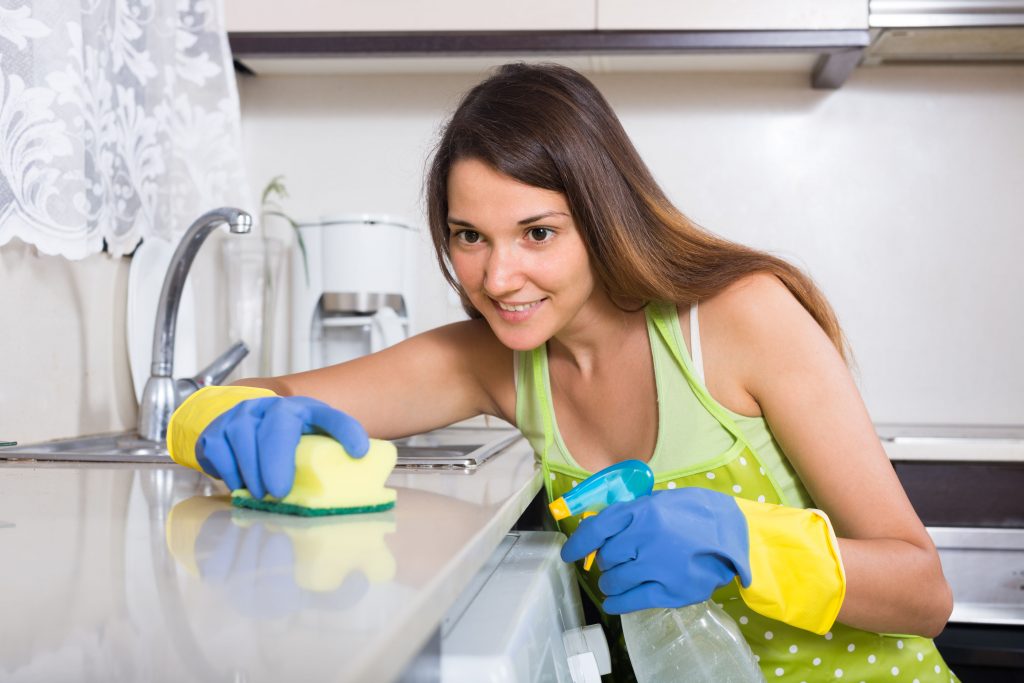 Take Away the Rust
If your pans and pottery are a little bit rusty, clean them with a potato. Cut the vegetable into two and scrub the surface. Repeat until the rust is gone and they rinse. You can make the method even more efficient by adding baking soda or a detergent.
Clean the Copper
The best solution for burnt copper is ketchup. Cover the surface of your tarnished items and wait 30 minutes. The ketchup contains an acid that loosens up the dirt. As a matter of fact, vinegar also acts in the same way.
Deep Clean Any Surface
Speaking of vinegar, this great ingredient can have various applications in your home. You probably seen it many recipes for DIY cleaning products. Get rid of the grime on your shower head and disinfect the surface. It's better to use white distilled vinegar. Mix it with a little bit of water and pour it in a spray bottle. Apply where needed.
Wipe the Walls
Your kid likes to get creative with the crayons. Don't let their art to ruin your walls. A slice of bread works like a magic eraser. It can clean the smudginess and dirt right away.
Treat Your Stained Fabrics
It turns out that one of the most powerful stain removers come from an unexpected place. If you stained your upholstery or piece of clothing, treat it with club soda. Yes, that's right. All you need is to poor a small amount over the spot and see how it disappears.
For professional help and advice click here.