Note: This is a Guest Article

Advertising has always been one of the most bankable industries, with millions of small to large businesses using all sorts of platforms and agencies to make their businesses more visible and profitable. Nowadays, making money online has become accessible to millions of people worldwide, and everyone wants to give it at least a try. There is one specific question that comes to mind – how do we do it? One of the best and most popular ways to make money from home is through affiliate marketing, but obviously, it's not that easy. Even experienced people in the affiliate marketing industry get frustrated sometimes with the quality of the available affiliate marketing tools, giving birth to a new and improved one – Ads-supply.com, which we're about to cover here in our Ads Supply review.  
So, what is it exactly? Ads Supply is an affiliate marketing platform that helps both newbies and experienced online marketers alike to create, run, and optimize (if needed) banner advertising campaigns, and earn money from it based on a Cost-Per-Lead (CPL) model, meaning that every time your ad generates a lead, you get a commission. Not only does it provide advanced affiliate marketing tools and features, but it also simplifies the affiliate marketing structure while making it an affordable choice. Yes, it's a paid service but, knowing that you'll have a head start can save you a lot of time and money in cracking the affiliate marketing code, especially if you're a novice marketer.
How does the Cost-Per-Lead (CPL) model work?



Making money on Ads Supply is based on lead generation. The platform takes care of displaying your ads on numerous publisher networks and niche related third-party websites. Each advertiser pays for an explicit sign-up from a potential consumer interested in the advertiser's offer. Whenever you generate a valid lead, you'll earn a commission. 
Start Advertising with Ads Supply
The first thing you need to do is sign-up and log-in, of course. Creating an account is free, but in order to start creating ad campaigns on the platform, you need a minimum investment of $250 (simply choose the package that suits you best, see more details about it below). After logging in, you'll see the options menu on your left (on your personal dashboard). The first thing you have to do is select either "Marketplace" or "Custom Campaign."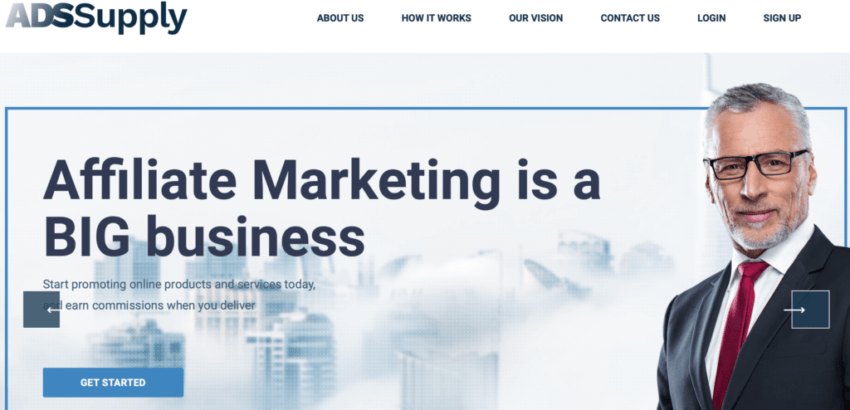 MarketPlace
Using the "Marketplace" feature, you'll be able to quickly choose and launch a new ready-made ad campaign. All you have to do is select a category and browse through the ready-made banner ads. Once you've found something you like, simply click on "Purchase," name your campaign, click on "Buy Now," choose the time and price range, and that's it, you're all set. Your new campaign is now live!
Custom Campaigns
On the other hand, "Custom Campaigns" lets you have a more controlled version of your campaign creation process, which can be done in a few easy-to-follow steps. The first step is "Name & Duration." It's where you decide the name of your campaign and how long it will run.
The second step is to choose the "Vertical & Budget." By "Vertical," we mean the type of product or service your ad campaign will promote. Such choices include jobs, business opportunities, sports & fitness, fashion, etc. The next step is to decide your campaign's budget. Your budget corresponds to the number of clicks that you'll get for it, and the minimum budget for your campaign depends on your vertical. Some verticals start at $100, while others have a $600 minimum. Next, choose an image for your ad. Ads Supply provides the images so you won't have to worry about that.
"Target" is the fourth step. This is where you define your audience targeting options, which include the topic, country, device, and language. 
The fifth step is "Review." This is where you can review your ad campaign and create its headline. Surprisingly, you can either create your own headline or select from the pre-made headlines that Ads Supply provides. Lastly, just save and launch your campaign. Quite simple, right?
Ads Supply's Packages
Ads Supply offers a few different packages you can choose from, suitable to all budgets and needs. The basic package is the "Starter" one, which requires only a $250 deposit (plus you get a 30% welcome value add-on). The premium "Silver," "Gold," and "Platinum" packages naturally require a bigger investment, but also come with a few major bonuses, such as live training sessions, marketing ebook, a monthly market review, and more.
Overall Impression
The simplicity and ease-of-use of Ads Supply is its most significant advantage. Both advanced and beginner affiliate marketers would enjoy creating ad campaigns using it, and the variety of products and services you can choose from to advertise is quite impressive. Although profits are not guaranteed, naturally, it can definitely be suitable for those who want to start small with a modest investment and scale up from there.