The Fortis group is made of a network of 12 hospitals in India and is one of the top most tertiary level medical care groups. It has a capacity of over 2000 beds and 12 heart command centres.
The Fortis group has recently acquired the Escorts health care group. With this, Fortis operates one of the biggest cardiac programs in the country. The NOIDA centre of this group is India's leading tertiary care facility in Neurosciences and Orthopaedics. The Fortis hospitals also conduct cutting edge surgeries in several specialties such as ENT, Dental, cosmetology, urology, ophthalmology, minimally invasive procedures and women and child health.
Fortis Delhi is also called as Fortis Healthcare flt. Lt. Rajan Dhall Hospital (FFLRDH). Similar to other Fortis hospitals, it follows the vision of the founder to create a world class, integrated system for health care delivery in India, providing the best medical skills mixed with compassionate care for patients.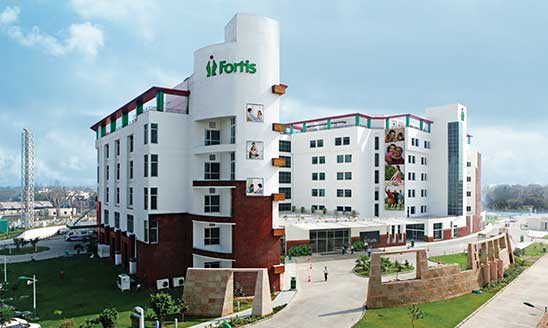 This stated mission inspires in FFLRDH, a passion to excel. FFLRDH is located in the biggest residential complex in South Delhi- namely Vasant Kunj. This hospital has over 200 beds and is spread over 1, 50,000 sq ft. It features a treasure house of medical expertise featuring the best talent among nurses, doctors, technicians and managers. They work in an environment which enables them to provide the best quality of health care using cutting edge equipment and facilities which deliver the utmost patient-centric care.
The warmth and sincerity of all medical care givers from doctors to nurses to technicians make FFLRDH at Vasant Kunj deliver the feeling of home away from home. The major advantage of Fortis, Delhi is the following specialty institutions under its ambit:
Fortis Specialty centre for joints
Fortis Heart Institute
Fortis Institute for renal sciences
Fortis lung centre
Fortis center for diabetes
These institutes are supported by a wide range of services to deliver care to any patient coming to the hospital seeking 'total health care'.
Fortis Health care is one among the fastest growing chain of health care providers with latest medical facilities and an unmatched devotion to patient care. FFLRDH is set up on the vision of being a delivery organization for integrated health care motivated by excellence, quality, compassion and technical expertise.
It has adopted a complete 'patient centric approach'. It is run by professional management, team of reputed and skilled doctors and well trained nursing staff. It features infrastructure of world class standards. It operates as per international protocols and certifications for quality.
The Fortis network is expanding and it ensures accessibility for large sections of the population and easy transfer of medical information (Electronic Medical Records). This network provides convenience to outpatient medical services as well as diagnostic services, all below one roof. The hospital is built keeping in mind the needs of both in-patients and out-patients. In every facility, the convenience and care for patients is kept in mind.
Delhi Fortis Hospital is thus a leading medical institution in the country. It provides sub-specialty and super-specialty care for patients. It is part of one of the biggest health care networks in India.