Canon has unveiled a brand new SH-ME20F professional full-frame 35mm CMOS multi-purpose video camera to record color video with very low light. That captures Full HD (1080p) footage and without the use of infrared illumination equivalent to an ISO sensitivity of over 4,000,000. The Canon ME20F-SH will be available in December 2015 with price of $30,000.
The ME20F-SH comes with this lowlight camera is tiny in size. With a width of only 10cm (4 inches) and designed for special applications, such as television productions of nocturnal wildlife, deepwater and caving, as well as astronomy and monitoring. The Camera have also been installed with short and medium term use at a fixed location. Via remote control, the functions for Documentary and nature films, as well as long-term projects.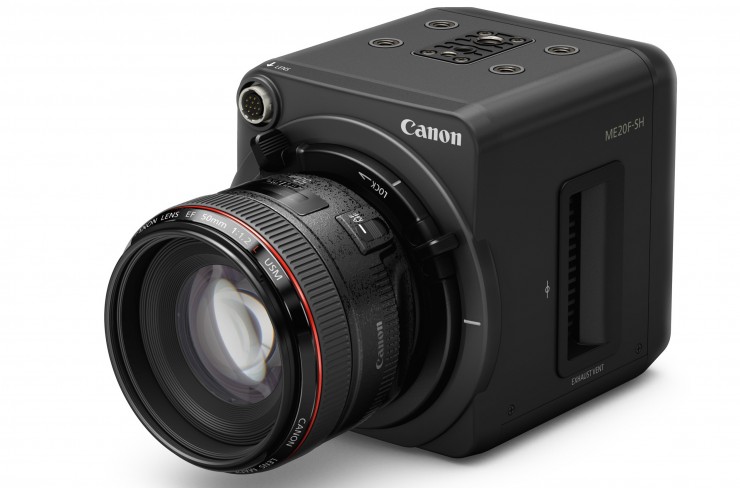 Canon sets in ME20F-SH on a newly developed 2.26 megapixel full-frame CMOS sensor and DIGIC image processor DV4. The sensor pixels and on the one hand to reduce the image noise and the other hand to achieve an extremely high light sensitivity, with minimum subject illumination of less than 0.0005 lux". The camera is not a fixed optical model. It has an EF mount with Cinema Lock System. Everyone can choose the most suitable optics to its use.
The ME20F-SH offers various connectivity options for connecting to external third-party systems for recording or viewing. So ports for HDMI, 3G / HD-SDI and stereo microphones are installed. In addition, it is compatible for example, to control all functions with the Canon plus an eight-pin RS-422 port. Audio input and output 2.5 and 3.5mm stereo mic jacks, But Canon's camera also offers an array of connectors "professionals".
Canon also offers a range of accessories and options to control ME20F-SH remotely. The features such as the Cinema EOS C500 on the Canon EF mount with Cinema Lock, thus users can make use of Canon interchangeable lenses. The list of compatible lenses will be announced by the manufacturer. When choosing the optimum for the respective application objective is possible to proceed according to the relevant factors, such as focal length and light intensity – the multipurpose camera facilitates the implementation of a wide range of shooting possibilities.