You should not think of your bathroom as just a place in the home with utility purposes. Nowadays bathrooms present great opportunities for designing interesting interior and implementing modern features that not only make it more practical, but also give it more sophisticated and pleasant look. In other words, your bathroom should be your own home oasis where you find comfort, style, relaxation and practicality.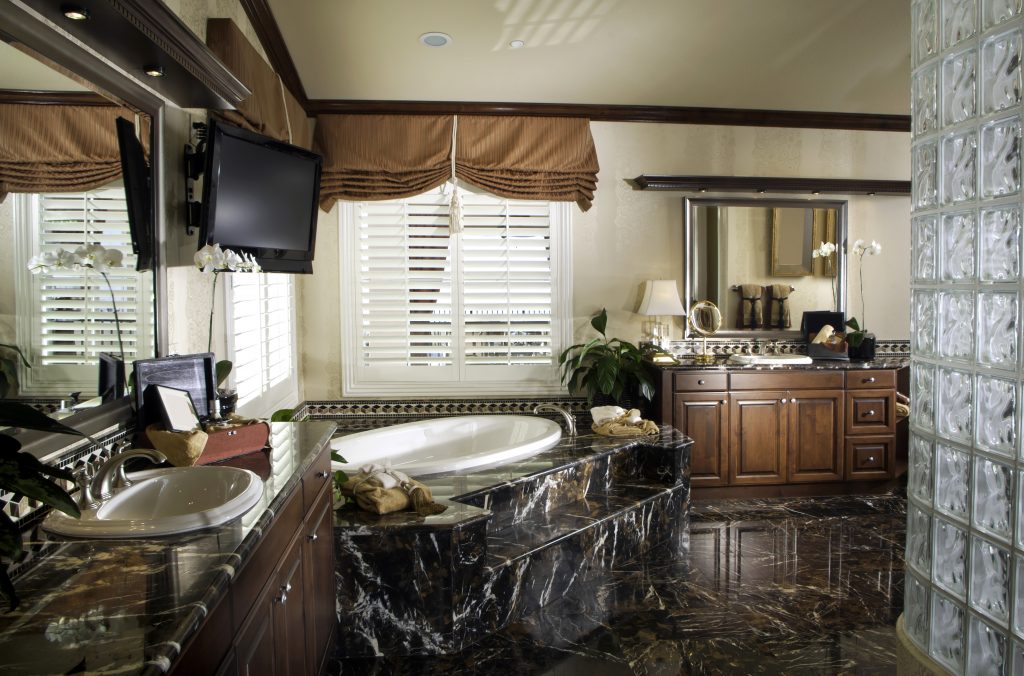 Equipping your bathroom with all of the essential features is a question of taste, but also should be done with care. After all, you need to consider the fact that sooner or later you will have to perform cleaning service there. There are few factors that determine what you can feature in your bathroom, namely size and composition. Here is what you have to consider for your design:
Bath tub – tubs offer a place for ultimate relaxation and comfort, a place for sweet treatments and a free ticket to some exotic place. The main thing you have to consider is the space of the room and what size of bath you can fit in there. You have to be realistic about this – if your bathroom is really small, it might be worth it to give up the idea of a tub, even though they come in many shapes and sizes. Sometimes it might be better to fit a smaller tub and leave more space to move around. Consider cleaning service too.

Shower

– one of the most popular options for any bathroom. Normally it is easier to create a designated shower area than to feature a bath tub, which is why many people prefer that option. You can select some practical solution and usually you wouldn't have too much trouble with your choice. Showers can basically fit anywhere, even in small bathrooms with sloping roofline. You can create the area with enclosure and doors, or leave it be of open type. Keep in mind the more enclosed you make the area, the more cleaning it will require.

Vanity – getting a nice vanity can surely set the accent of your bathroom. This is the part of the interior that synergises most with the bathroom mirror. Definitely try to get a model with enough storage, and one that is easy to clean. Select a model that fits your requirements and needs. Double vanity in your bathroom, given that space allows it, can allow more people to take advantage of the cabinets, maybe even a double sink for the vanity top.
Mirror – you cannot possibly have a good bathroom without a nice mirror. There are some guidelines that you should follow, such as size corresponding to the size of vanity and whether your mirror will have a frame. Consider what type of mirror you get with regards to mounting, because some models come with visible components and those might get in the way of cleaning.
You will likely spend some time in your bathroom every single day. This is why you should devote some creativity in making the design comforting and pleasing. Read more at: claphamcleaners.com