The web is an amazing place to do lots of things. One can make friends, keep in touch with old friends and get information on various subjects on the web. It also serves as a platform for working and finding work. Using the internet, one can find work relevant to one's education and experience. It offers various jobs to people. One can work from home using the medium if the web. Following are some of the ways to make money using the medium of the web: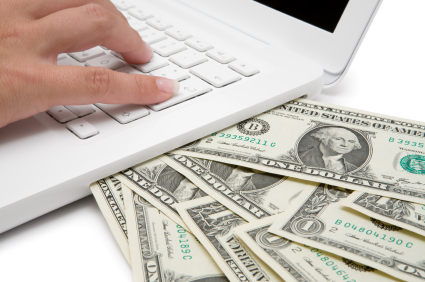 YouTube Videos: Choose a field you are good in and make YouTube videos regarding it. Tutorial videos of software programming, hairstyles, house decoration are some of the examples. The videos can also be about other things like pranks, drama, skits and so on. As the videos become popular and get more views, YouTube pays its video uploaders for the videos. This way, one can earn money by uploading videos of their choice and according to their convenience. It can also be of good use for others. With the increase in the number of videos, one can get a decent amount of money.
Website: For a nominal amount, one can get their very own website. With this, they can start their very own business. The website can be about anything like sharing thoughts, discussions, social networking, entertainment and so on. As the popularity of the website grows, advertisers become interested in promoting their products on your website. In return of this, one can get money from the advertisers. There are many advertising programs like Google Adwords, which helps people do this. A well maintained website, with interesting content is essential for this purpose. One can also offer services online. For example consultation work, web designing, data management and many others.
Freelancer: There are many websites on the web which offer freelance work to those interested. There are many fields from which one can choose to work from. This is a very convenient type of making money. One can take the amount of work as comfortable. The money involved is decided by the employer, but the freelancer can negotiate to get the desired amount. The stress is not too much as the freelancing chooses the type and quantity of work. The payment may be in the form of hourly rate or a fixed amount as decided by the employer. Either way, one gets to choose a lot of parameters of working. This is why freelancing is a desired option for a lot of people.
Making Apps: With the advent of Smartphones, many people have turned to making apps. Apps is basically software which extends the functionality of the phone. Thus, making cool and useful apps is a huge market. One can develop and deploy apps. Paid app is a good option, although free apps also allow the developer to earn through advertising. The internet is a place where something new is happening every day. The trends and norms keep changing very quickly. Only your imagination is the limit to make money online. So get creative and make this most of this platform.