Eyes are the "Mirror of the soul". They are the windows to the inner beauty of a person. Many people easily relate to it as one's eyes can speak a million words without a sound. This is one reason people want their eyes, the main feature of their face, to sparkle with life.
Eyelash Extensions- Go Glamorous
Everyone is not blessed with well-defined natural eye lashes and false eyelashes are a great option for many. It's filled in orthe look of fuller lashes enhances your appearance. Alsoreferred to as artificial lashes, these are temporarily glued to the eyelash. They could be made from human hair or from synthetic materials.
There are different types of eyelashes that can help you achieve the exact looks you want. Individual lashes create the most natural looks and strip fake eyelashes givea slightlyartificial look. Three Quarter Eyelashes are a special kind, designed for the eye corners and gives stunning and romantic looks.  Lower fake eye lashes are often applied under or on the lower natural eyelashes. There are many Color, Glitter and Shimmery Eyelashes available which are appropriate for costume makeup.
Application need to be done with exceptional care and you may need the right tools for reshaping or trimming them to the shape you need. Use remover that will help you to remove the false pieces, without pulling out some of your own lashes.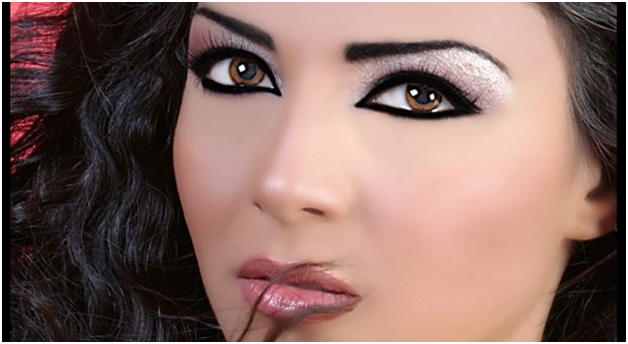 Make-up Tips- To Highlight Eyes
Eye make-up can transform your whole look and choosing the right make-up for your eyes involves more than just picking out the favorite shade.
Always conceal your eye area before applying makeup to make your eyes seem young and rested.
Use eye shadow to make your eyes charming and attractive. You must always blend the colors very well and try not to let them steal the attention away from your eyes
You can use both eye-liners as well as mascaras to get a more intense effect. Mascara is a beauty basic: a quick slick of mascara can change your whole look in an instant.  Use an eye lash curler and curl before applying mascara. Eye liner visually extends your eyes.
Great groomed eyebrows will frame your eyes in a way that makes them look more beautiful. Identify the natural line of the brow and only pluck hairs from beneath it. A weekly tidy up is essential if your eyebrows are to always be at their best because it gives flawless finish to your face.
Cosmetic/ Costume Lenses- Spice up Appearance
Millions of people have switched to contact lenses as they are not only good to correct their vision but also useful to improve their appearance with a better look or to enhance the beauty of their eyes.
Cosmetic contact lenses are on offer with different features and available in a diverse range of shades, textures and colors to make your beautiful eyes more impactful.Firstly, changing the color of your eyes, enhancing your natural eye color temporarily, can be equaled with any outfit and makes you look fashionable.
Another important thing is that even though these colored lenses are not for vision correction, it is better to consult an eye care professional, which ensures a good fit.
To get clear and sparkling eyes, you can adopt simple lifestyle changes and try some easy home treatments
Tips for Healthy Eyes
Make sure that you sleep enough.
It is important to make healthy food choices rich in essential nutrients such as protein, Vitamin C and A, etc. These play a major role in keeping your eyes healthy.
Drinking lots of water prevents dehydration.
If you spend long hours in front of a computer, use soothing eye drops to stop them from drying out or becoming red and irritated.
Never tug at your eyes, don't rub them. Your eyes and the skin around them are very delicate, so be careful.
Never sleep withmake-up on, it causes a lot of infections.
Do gentle eye massage and eye exercises every day, which will help alleviate eye strain and improve blood circulation to the eyes.
Use Home Remedies- You can soothe dull and tired eyes with cucumber slices,Potato Slices,Rose water, green and black tea bags, Strawberry, Lavender Oil & Extra-Virgin Coconut Oil, etc
Wear sunglassesto protect eyes from the glare of sunlight or strong, dusty winds.
Try to relax with a bit of mediation or yoga or deep breathing along with a positive attitude – eyes will reflect inner peace.
Reading material should be kept at least 10 inches away from the eyes and should have adequate lighting.