The Indian store cupboard may well be made up of a veritable rainbow of aromatic spices, from the deep orange bursts of turmeric to the fiery red of the all-important chilli powder that has become synonymous with Indian cuisine over the years. As any home chef who likes to dabble in a little Indian fare will know, there are certain spice names that crop up time and again.
One of the usual suspects is fenugreek, an ingredient which actually offers its use to dishes in a number of ways. It offers its leaves to add flavour to dishes, as well as its seeds to be ground into spice. It can also be consumed in its natural vegetable state where its leaves and sprouts make an excellent addition to salads.
Although many parts of fenugreek can be used, it is the seeds that feature the most in a range of Indian recipes. Although these pungent seeds may taste too bitter to enjoy raw, once roasted they become much more palatable. The distinctive bittersweet taste of fenugreek makes it a bold addition to an assortment of Indian dishes, in particular to dals, curries and pickles.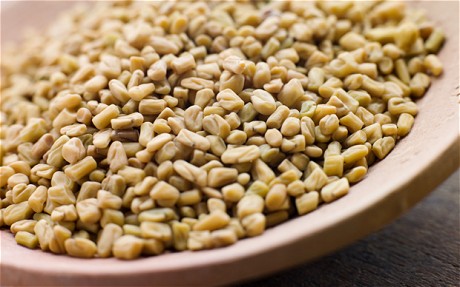 One of the best-loved dishes in India that simply would not be the same without a generous helping of fenugreek is the warming stew of the south, the fiery sambar. This South Indian speciality is a staple of states such as Kerala and Andhra Pradesh, a warming stew, laden with vegetables and spices – just the sort of dish fenugreek lends itself well to. The leaves are generally added quite late in the cooking process to make the most of their flavour whilst the seeds are incorporated early to allow the pungent tones to properly blend with the other flavours.
Fenugreek is not only a staple of the Indian spice rack for its interesting flavours, it has also long been held in regard for its health-boosting properties. The ancient Hindu medicine practice of Ayurveda, dating back thousands of years, even noted herbs like fenugreek for its healthful benefits. Amongst other ailments, it is thought to relieve symptoms of PMS and the menopause, as well as offering antiviral and antioxidant properties that can help keep colds at bay and dispel damaging free-radicals from the body.
Our advice for trying out the use of fenugreek at home is to add only a little to dishes, gradually building the flavour to avoid drowning your dish in too overpowering a taste. Additionally, the spice complements citrus flavours well, so try adding a squeeze of lime or a few wedges of lemon to your recipe.
Of course, you could just put this advice aside and instead book yourself a table at one of London's best Indian fine dining restaurants. Here you can expect dishes infused with the choicest spices of India, expertly blended into unique masalas to add the flavours of the east to a range of mains, sides and desserts. Even the cocktails on the menu have been given a little Indian twist with a little bit of spice.
The innovative chefs have worked authentic Indian recipes into a sophisticated and contemporary menu – sample the spices at their absolute best and book a table today.