Being a parent of smiling baby is a big reward in itself. At the same time to keep the face of your baby always smiling is your prime duty too. So, out of many ways possible to keep your baby smiling, one way may be to present the ideal, useful, unique and personalized gifts to your baby. It has tremendous effect in building a strong bond with the baby.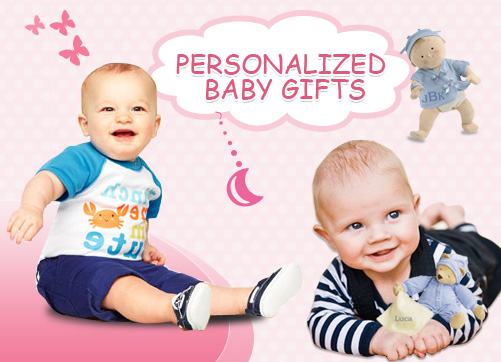 So, here are a few ideas that would help you in buying ideal baby gifts:
Clothes
Small babies need a lot of clothes. You buy clothes for baby too, but after a little consideration you can buy the best baby gifts. The clothes for babies are available in various pleasant colors and accessories that will keep your baby always smiling. You may get the desired clothes labeled with your baby's name and embroidered favorite designs. Go for the trend in vogue in beautiful designs.
Books And Toys
With the growing age, your baby needs some other thing rather than just clothes. So, give your baby the materials that enhances his/her intellectual and motor development. You can gift your lovely baby the books and toys. Books may be containing with nice pictures of animals and fruits in initial days. When the baby becomes capable of reading, present him books containing comic and cartoon characters.
The toys are also available in cartoon characters. Your baby will like it too. Soft toys of good fabric and amazing features are easily available. If you wish to spend some amount more, never hesitate to gift your baby the bags, watches, water bottles, lunch boxes, etc. Your baby will be delighted when he/she will be showing these gifts to his/her friends. If the baby is female, buy dolls for her. Further, you may buy cars and movable toys, drawing books etc.
Baby Shower Gift
Learn and gather information to make your own gift basket for your baby. You will save the money in purchasing expensive items and necessity will also be met. Just add baby care products in the basket. So, add items like baby powder, shampoo, towels, baby wipes, even diapers. This will be useful to you as well as to your baby also.
Childhood Cake
This seems to be a different but unique gift and can be given to both the boys and the baby girls. If you present this gift, you will be counted in very close in relations.
Jewelry
In the baby is nephew or someone very close relationship, there can be no gift better than jewels. You can gift chain, little bangles, ear rings etc for the little kids. They look nice and decent when they wear jewelry.
CDs/DVDs
Cds/DVDs containing nursery rhymes, learning musics and various other educations items can be gifted to babies. These are modern, unique and innovative gift but very useful. It enhances the intellectual and mental development of your child.
For More information about gifts Visit: Baby Stuff Gifts