Despite being different smartphone monikers, Lenovo's Vibe and Moto brands are doing a great job in the domestic as well as international markets. Both names, owned and managed by the Chinese giant, are making into the news for all the good reasons. Motorola was already too good and now its sibling Lenovo Vibe is also rising high on the charts.
Well, after the famous Lenovo-Motorola deal, we all saw that coming. But, what we did not expect was a face-off between the two big boys. The recent launch under the Moto brand, G4 Plus has made into the hearts of budget phone buyers. The device is hitting the shelves successfully but it has a strong and equally Lenovo K5 Note stands in its way.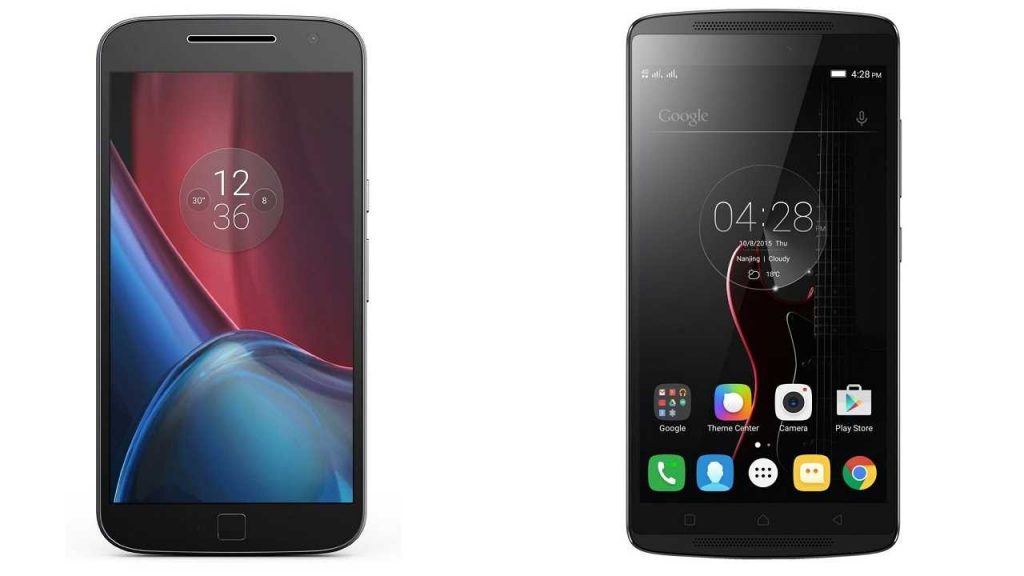 The two phones bring a number of improvements over their predecessors, and it's highly unlikely to expect either of them tremble against the other. However, to mark out their positives and negatives, we've done a detailed comparison of their internals and externals!
Design and Build Quality : In terms of design, Lenovo has given full attention to the details. The latest Moto G incorporates the class of its predecessors, but with a square-ish fingerprint scanner on the front and an elongated ring on the textured back panel. The ring accommodates a revamped camera setup, but unlike last time, it does not extend towards the Moto branding dimple. On whole, G4 Plus looks great and gives a great handling experience with curved corners and a plastic frame with metal finish.
On the other side, Lenovo K5 Note looks more premium and classy. The dual-SIM based device boasts an all metal body which makes a great style statement and is extremely durable. It sports a vibrant display with thin bezels, and gives a great grip with slightly curved sides and a well-built back panel. For a price under 15k, the design strategy opted by Lenovo is just spectacular. It offers you fine aesthetics, enhanced durability and a snappy fingerprint scanner positioned at right the back panel.
Display and Visual Quality : The display technology is identical on both phones. Lenovo Vibe K5 Note and Moto G4 Plus come with IPS LCD displays with full-HD resolution. They both feature 401 pixels per inch and deliver detailed visual output with perfect angles and vivid colour tones. As for the screen size, while other phone makers are moving towards the phablet segment with bumped up screen size, Lenovo is still sticking to the 5.5-inch panel that fits nicely and does not require any time for getting used to.
But support for TheatreMax technology is something that tips the scale in favour of Vibe K5 Note. The handset, when paired with company's ANT VR headset, can convert any media content into virtual reality. It gives the big-screen experience which we all have been looking for since years.
Performance and Specs Under the hood : Digging deep into the CPU performance, we can see Moto G4 Plus out performing Vibe K5 Note. Though there's nothing that makes K5 Note weak, it is just the internals that tend to shift the bar in favour of Moto G4 Plus.
Moto G4 Plus ships with an octa-core Snapdragon 617 processor while Vibe K5 Note rocks a MediaTek Helio P10 at 1.8GHz. The two beauties ship in different RAM and storage variants, but if you're looking for super-smooth performance, G4 Plus has to be your pick. It is fast, it is snappy, and can definitely handle day-to-day tasks, graphic intensive activities, and constant video streaming. It packs a strong punch with the latest iteration of Android and stands out against all phones that have showed up this price bracket.
Front and Back Camera Quality : When it comes to the camera, there's a lot to talk about. Lenovo has upgraded the front-facing camera of Vibe K5 Note and the rear facing camera of Moto G4 Plus. The latest K series member now delivers picture-perfect wide-angled selfies and pairs with a fairly impressive 13-megapixel ISOCELL snapper on the other side. Its main camera might not be the best offering in the low-to-mid-end segment, but it can certainly do the job for you.
Even Moto G4 Plus fulfils photography goals. The handset incorporates a 16-megapixel f/2.0 sensor with phase detection-laser autofocus, and dual-tone flash. It works perfectly in low-light environment and works nicely with a 5-megapixel front-facing shooter which also quite nicely.
Battery Life : Vibe K5 Note wins here. The latest big thing from Lenovo incorporates a 3,500 mAh battery and offers more than enough power to keep your apps up and running. It works seamlessly and stands out against a decent Moto G4 Plus which packs a 3,000 mAh battery. The battery on Moto G is a tad weaker but it can bear all your needs quite easily. Even hefty usage with hours of gaming and multitasking.
Though Lenovo still needs to improve its software, Vibe K5 Note is a clear sign that there's more to come in next few months. The Chinese giant is doing a great job with its expansive product portfolio and with players like Moto G4 Plus and Mi Max in competition, it keeps on improving every now and then.
Both phones are good, but if you still don't know which one to pick, we suggest going with the new Lenovo K5 Note. Except for the part where it runs a heavily bloated custom skin, there's nothing on this phone that disappoints us. It runs Android Marshmallow out-of-the box, and works really well with Helio P10 and a humongous 3,500 mAh battery.
And if snag-free performance is your thing, go ahead with Moto G4 Plus. It might be a little expensive than other phones, but for that price, the phone has a lot on offer. It looks and performs well, and runs vanilla Android 6.0 with nearly no bloatware. On whole, inside out, this mind-boggling phone looks complete in every way.