There seems to be more children with food allergies these days compared tothe previous generation. Peanut allergies, for instance, were hardly heard of many decades ago. Today, however, there seems to be many more children with peanut and other allergies. In fact, according to Allergy and Anaphylaxis Australia, at least 3 in every 100 children are allergic to peanuts. The more worrying cases are the children who have peanut allergies that are life-threatening (anaphylaxis).Because of this, some schools and kindergartens actually ban students from bringing food containing peanuts to class because they have classmates who are allergic to peanuts. No matter how careful and diligent these children and their parents are in keeping these allergens away from the children in question, it can't be easy for them to completely avoid contact with these allergens 100% of the time. Take, for example, the number of children who have eaten things that contain traces of peanuts, even though peanuts was not listed as an ingredient, and been rushed to hospital with breathing difficulties. No doubt, nothing is 100% foolproof these days, but surely we can do better in preventing accidental allergic reactions occurring. One thing we can do is to better inform others and to do a better job in alerting others of food allergies. A great way to do this is to use name labels to indicate the types of food the child should avoid.
Allergy Labels
As the name suggests, many people think that name labels only contain the person's name and maybe his/her address and that they are only used to identify belongings or stick on envelopes. Wrong! There are name labels that you can personalise with any short message; for example "John Smith is allergic to peanuts." These labels are approximately 50 x 20 mm in dimensions and come in a pack of 48 labels. They are microwave and dishwasher safe, so are great for children's drink bottles, lunchboxes, books, toys, sports equipment, etc. These labels would be perfect to be stuck on food containers to alert students, teachers, school staff and other carers about a particular child's food allergies. These labels are very durable and have a coating that makes them resistant to scratches. They are also very versatile because you can use them for anything as you can type in a maximum of five lines of text with twenty characters per line. To further customise your labels and make them easily recognisable, you can choose from a range of colours and allergy icons and even have them printed in Chinese character font. Talk about being bi-lingual!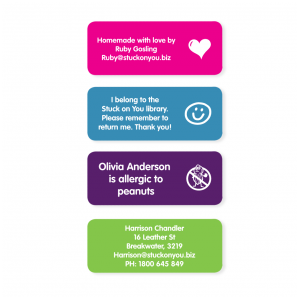 Jar Labels
If it's not allergies you are worried about, these name labels can also be used to label jars of food. Christmas is just round the corner. Why not do something different and creative this year and make your own Christmas gifts? Why not make homemade jam, chutney, pickles or any food that can be put in jars? Add a touch of class and make it personal by including a short message on your customised name label and sticking it on to the jars. And voila! You have a perfect and thoughtful Christmas present.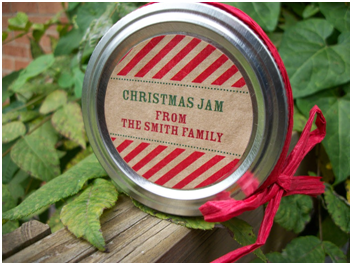 Long Names
If you have an extra-long name you would like to fit on to a label and the regular name labels can't do the job, don't fret. These special labels will fit the bill. Not only are these name labels big enough to hold more information, they are also made from a high quality vinyl with a strong adhesive backing.
Short Messages
If you run a business or some other organisation, these labels are great for printing short messages that you can stick on your invoices or envelopes to clients. Why not send a short and sweet greeting out to your clients at Christmas, New Year, Easter or any time of the year to let them know that you are thinking of them. It will make them feel good and keep your business at the top of their minds.
A Label for All Purpose
There is no limit to how you can use these special name labels because no matter what you use them for, they are guaranteed to look better than handwritten labels. They will save you time and effort in the long run. If you need guidance, simply call the label company and they will gladly assist you.