The Latest Cheap Garden Furniture
Thinking about buying the Latest Cheap Garden Furniture that outlasts and glitters too. There are countless trending options available at affordable rate. Garden Furniture includes patio chairs, canopies, tables, and Firepits. While buying any garden furniture, it is strongly recommended to consider several options as per your preferences and then choose the most suitable one. The rates of once affordable garden furniture have magnified and hence, it is crucial to buy garden furniture that fits your budget. We have gathered a list of some latest cheap garden furniture that you can surely interest you.
UV resistant Folding Outdoor Chairs : With most positive feedbacks, these Folding Outdoor Chairs come at a very cost-effective price. Set of 2 chairs, it comes with UV Resistant coating that protects it from any discoloration. The chairs are Lightweight and handy to use for patio or balcony. Carved out from the amalgamation of sturdy steel, Textilene Fabric, and high-quality Plastic, these Outdoor Patio Chairs ensures durability and long lasting functionality.
Modern Outdoor Garden Patio 4-piece Wicker Furniture Set : An entire 4-seater arrangement is carved out to be the most beautiful piece of sheer excellence. It has 2 chairs, Loveseat, and a coffee table that will be perfect for your patio. The furniture is water resistant and is available in Brown and Grey color option. Place it in your patio and it will shimmer and outlasts any other patio furniture.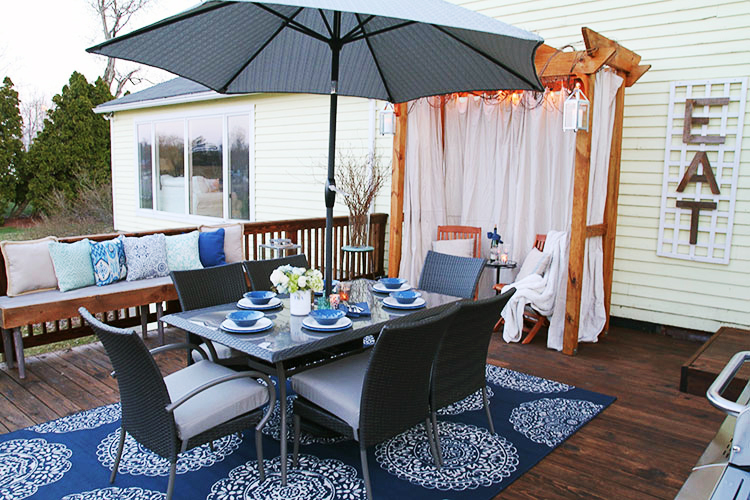 Modern Outdoor Garden 4 piece Patio Set : Backed with Durable Steel frame and high-density foam, this 4-piece Patio furniture features a table, 2 chairs and once loveseats that suit you as per your comfort. As per buyer's recommendation, this patio furniture is available in a budget rate which makes it to the list of the latest cheap garden furniture.
Castlecreek Complete Patio Dining Set : Take home the complete patio dining set that includes Umbrella, coffee table, and 4 chairs all woven in crisp outlasting high-quality Textilene Fabric treated with UV resistant coating. Made from steel, the round top table with decent looking canopy that comes in Grey and Black colour combination.
Giantex 4-piece Patio Furniture Set : The 4pc Furniture Set presented by Giantex comes with a single toned loveseat, 2 chairs, and a coffee table cushioned with high-density form. The sleek design is comfortable to sit. The supportive foam cushioning makes your leisure time pleasurable. It is made of Steel, Wicker, Sponge, and Poly-fiber is available in budget.
Getting a trending patio set at affordable rates is what everyone desires. The Patio chairs must be relaxing to spend the leisure time around the poolside or garden side. There are many options available for the latest cheap garden furniture and for that purpose; you will have to search the Internet to make the correct decision. You can several furniture design over there from which you select the appropriate one. We have presented our list of affordable patio furniture that will help you choose the right one.