The North American firm Pebble has lifted the veil on a new device named Pebble Time Round, And this is the world's thinnest and lightest leather strip smartwatch than its competitors Apple, Samsung and Motorola. It will be available in two versions, one version especially for women's wrist has a 14 mm strap, while the men's version has a 20mm strap. It will be available in the US from November priced at $249.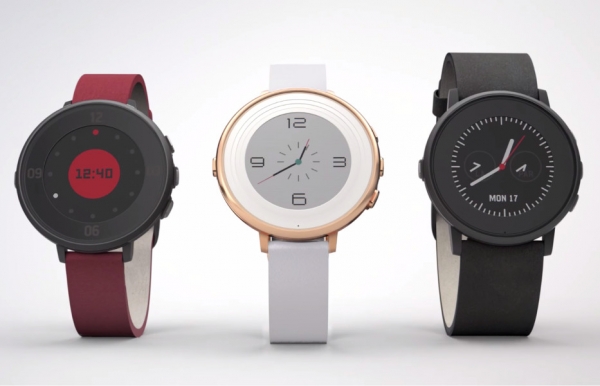 The product uses a low color non-touch display, and we always find the 4 physical buttons: one to the left to turn on the screen or go back, the other 3 right of the smartwatch to navigate the OS and select. It is actually smaller, more discreet and it will be available in three different colors. black, gray or rose gold. Trend.
The watch is also one of the lightest on the market, with a tiny 28 grams on the scale. The case does not exceed 7.5 mm thick, it comes with a screen resolution of 144 x 168 PX, all in a housing of 38.5 mm in diameter. The measurements of the Time Round still seem destined to small wrists and certainly for females, such as Apple Watch 38mm. For the rest, it is the Pebble, It connects to both the iPhone and Android devices, and more than 6500 applications (Pebble apps). Pebble Technology puts lot's of effort for battery capacity and Time Round will only go two days before needing to juice up. The firm, however, says that it is possible to get 24 hours of operation with only 15 minutes of charging. The charging connector, back, same as the Time and Time Steel.
Note that this time, Pebble Technology will launch more through a Kickstarter campaign, but live on its site, from day one, and with distribution partners. A mini revolution in Pebble. Watches connected to round screen that we see bloom for several months on the market and some may blame the design of the Pebble. But the US company company is striving for attention with this smart watch launch that is not really in the alternative, with an smaller screen and especially a better battery life than Pebble Time and Pebble Time Steel.