There are plenty of dishes having their origin in different areas of India. Thereis even some gravy, curries and other dishes that are absolutely heart winning. Have a look at some of the random dishes of India that are always overwhelming.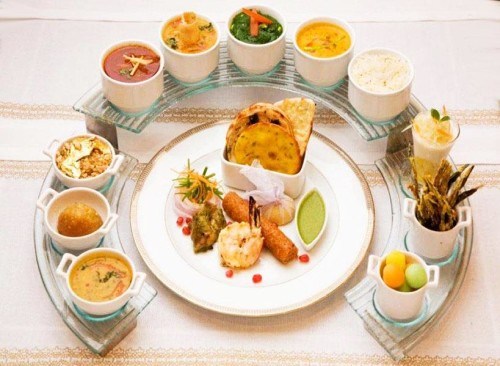 Gobi Manchurian Gravy:
Gobi Manchurian gravy is a famous Indian street food dish that is a version to famous Chinese Manchurian cuisine. Manchurian gravy dishes are mostly served with other types of Indo Chinese cuisine rice dishes as a side eatable or gravy!
Veg Manchurian:
Vegetable Manchurian Gravy is another scrumptiously spicy and soupy Manchuriandish prepared with vegetables such as carrot, cabbage and capsicum. Whether you serve it as a hot chewy soup starter or as a company to Chinese fried rice; it is certainly going to rule the taste buds of eaters.
Manchurian Dry Dish:
Veg Manchurian Dry, indeed its name itself makes juices splashing in mouth. It is an alluring appetizer made up with sautéing vegetable balls in tomato, soy, and chilli sauces. Chinese Manchurian dry and the sibling, vegetable Manchurian gravy, are always preferred as the starters of Indo Chinese cuisine. If you are planning to prepare this scrumptious dish at home, you might have to toil a little hard but the outcomes are going to blow your mind for sure!
Paneer Butter Masala:
It is theone of the most popular Indian Curry and maybe the most vending dish in Indian Restaurants too. This dish is a creamy and rich curry in Red Indian Gravy. Butter Paneer Masala belongs to North Indian Cuisine and people have a great preference for this scrumptious dish.
Spring Onion and Tomato Curry:
A Spring Onion and Tomato Curry dish is a conventional Gujarati Curry that is extremely popular in all over Gujarat and also in India. The dish encompasses a couple of simple ingredients such as Tomatoes, Spring Onions and it caters everyone   an exclusive taste of Gujarat and a scrumptious tang.
Goan Fish Curry:
Goan fish curry is an ever famous dish in Goa, and it is one of the most prevalent and cheapest curries that you are going to find on the plate there. The dish is absolutely tangy and spicy. It has a sweetish coconut base. You are definitely going to experience something distinct in this tasty delight.
Chicken Tikka Masala:
Another famous Punjabi favourite, Chicken Tikka Masala encompasses pre-marinated pieces of chicken that have nicely been grilled intandoor. Once it is done theyare added to densecreamy gravy. The outcome is a beautiful Smokey flavour. The chicken pieces Wrapped in delicious gravy filled with spices and richness is going to fill you with absolute delight.
Chicken Korma:
This scrumptious north Indian Mughlaiea table makes use of a marinade of spices and yoghurt. The spices that are usually found in it are like garlic and ginger. The meat is next prepared in its own juices and deliciousgravy made of tomatoes, onions, green chillies and entire spices. The dish also is available as a vegetarian Navratan Korma having nine diverse kinds of vegetables. Of course, people have their different ways of preparations but the base is that the dish is always finger licking.
So, you need to try these out, don't you? Go ahead and try them out at home or just relish them in one of the restaurants in your area!