Traveling in a recreational vehicle is an increasingly popular vacation option. Former tent campers appreciate the comfort; people who used to book hotel rooms like an RV's convenience and flexibility.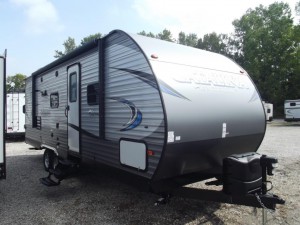 Home Away From Home
When you travel in your RV you bring all the comforts and conveniences of home. Many people prefer sleeping in their own beds in part because it won't house bedbugs. Furnishing your own pantry and refrigerator allows you to accommodate family members with various dietary restrictions or food allergies. Pets can come along, too, without the added hassle and expense of finding pet-friendly hotels and eateries. RVs make it easy to transport recreational equipment from kites to kayaks, as well as medical equipment like breathing machines or walkers.
Great Locations
Taking an RV makes it easy to visit several locations in one trip, either by traveling from one place to another or choosing a home base close to several attractions. A perfect example of this is kemah camping which allows you to enjoy the small-town feel and quiet nights of Kemah, Texas while easily accessing the city life of Houston and the miles of beach in Galveston, Texas. You can find convenient RV camps just about everywhere—close to national parks, huge cities, and global attractions.
Affordability
Travel can become expensive quickly, especially for large groups. Airline tickets must be purchased according to headcount, but when you RV the cost is the same whether you are transporting one person or six (or more, depending on vehicle). Food expenses go down substantially when you whip up a quick breakfast and pack a lunch in your own kitchen rather than eating out three meals a day. The biggest cost savings involve lodging, which is paid for before you leave your driveway. Best of all you always know the quality of the accommodations. Fair warning, though: the maid service may leave something to be desired.