Who doesn't want to relive their happiest moments again and again, especially if it is their wedding? We surely do. Our weddings are incredibly exciting and are filled with all emotions one can possibly experience in a lifetime.
Weddings in Delhi are known for their glitz and glamor. The music, colors and overall grandeur make them worth a dekko. Hence, preserving the wedding memories becomes important. While aesthetically shot images capture the beauty of the do, videos shot by a professional wedding videographer can offer a complete experience to its spectators. The funny teasing during Varmala, the singing performances by bathroom singer cousins on Sangeet and the subtle sobbing by the bride's kith and kin during her Vidaai – everything gets recorded in a story format, making the video on par with a movie.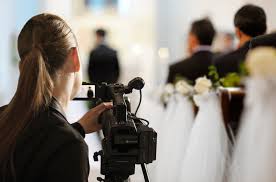 So, if you are going to get married soon, don't forget to go for wedding videography. Here is a list of top three wedding videographers in Delhi who can perfectly record all events and emotions:
White Frog Productions: The passionate team at White Frog Productions, steered by its captain ace cinematographer Kunal Khanna, is always ready to capture one's big day in its true elements. Their expertise and attention to details in shooting candid videos yield those unforgettable wedding stories, which their clientele love to treasure. Fresh concepts and great post-production are their strengths. The energetic team gels well in the environment to capture timeless stories.
Coolbluez Photography: Capt. Pawandeep Singh, a professional pilot, and his wife Supreet head the 20 member team at Coolbluez Photography. The duo has always been fascinated by the versatility of Indian weddings and has honed their passion for running one of the most successful studios in the country. Today, they have multiple offices spread across India and abroad. Their candid style and enthusiastic approach have made them a preferred name for pre-wedding videoshoots and destination wedding photography.
Puneet Batra Photography: A B.Tech. in Electrical and Electronics, Puneet Batra followed his heart while choosing his career. An active blogger, Puneet compares a candid photographer with that of an artist, who paints with the colors of emotions spread on a wedding. He stresses on having a good conversation with his clients to understand their expectations beforehand and never asks them to pose. He captures the most authentic expressions and translates them into a compelling storyline which can bring a smile on anyone's face.
So, these are the best professional wedding videographers in Delhi. Check their portfolios and rates by visiting http://photographers.canvera.com. You can also find more choices and hire one from the comfort of your home at Canvera. Just post your requirements. Simple!