Elegancy is a woman's earnest desire. Whether it is aimed in dresses, accessories, shoes or hairstyles, their foremost requirement is to be elegant in style. Although, straight hairs look quite elegant themselves but they crave for more. There are numerous hairstyles that can be put up with straight hairs giving a decent yet sexy appeal. Here's to those women, a list of a few top most elegant hairstyles for straight hair.
Half Up/Half down Hairstyles
To top the list, half up/half down hairstyles are the most frequent celebrity inspired ones. They can promptly give you the amazing look you aspire. This can be done with an absolute ease, all one needs to do is divide the hair in half, pull them back and secure them tightly with the help of bobby pins or other sparkly hair accessories, for example. Hair Spray could also be used for long-last and shiny outlook.
Furthermore, half updo hairstyles can be created efficiently as well. For this hairstyle, instead of securing the hair in a tight ponytail form, a twisted flower shaped bun can be created and further styled with the help of special hair accessories including bobby pin and hair catchers etc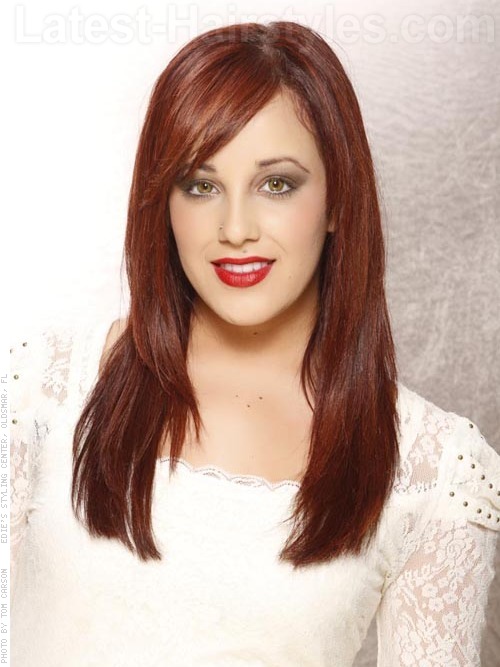 Use of Head-Bands
Head-Bands give a smooth, neat and decent appeal to any hairstyle. Hence whether the hairs are left open and straightened or twisted in a bun, head-bands can be used nonetheless. Sparkly or simple colored head-bands may be used for uniqueness.
Fragmented Braids
For this simple yet appealing hairstyle, a few steps need to be followed. Firstly, you need to take two separate thin hair strands from the temple of the front hairline and make two fine braids of both. Straighten out the rest of the hair. Pull back and join the two fragmented braids with an elastic band at the middle-section of the back of the head. Use a spray to secure the neatness of the braids and the overall hairstyle.
Long Hair Braid over One Shoulder
One single braid is an absolute no-worry for everyone. When nothing seems to fit in, a braid seems to be the solution. In order to make a braid, start making it from the middle section of the hair or perhaps make a French-braid instead and let it fall over one shoulder. French-braid is the ever amusing hairstyle that has been grooming the personality since ages. So, it is an anytime wear hairstyle that continues making you look lovely.
High Ponytail Hairstyle
Straight hairs look highly decent in a high ponytail. For this hairstyle, one needs to wet the hair a bit while showering. Then apply smoothing gel evenly in your hair and secure your hair in a high-rise pony tail. Once the ponytail is secured, then straighten the ends by a blow-drier.
To conclude, I must say that the above mentioned hairstyles are a few. Using one's creativity, originality and stretched-out imagination, one can create countless hairstyles of a kind and look interestingly gorgeous and decent as well.