Kurtis are such a piece of clothing, which can be carried on every occasion or in daily routine. They can make you look stylish or casual. Whatever way you want, you can get that look by wearing Kurtis of appropriate style. Designers are now trying to use their creative skills and designing various styles to give that perfect look. Following are some of the combinations that can give you a good idea of how to carry a particular style to get the desired look: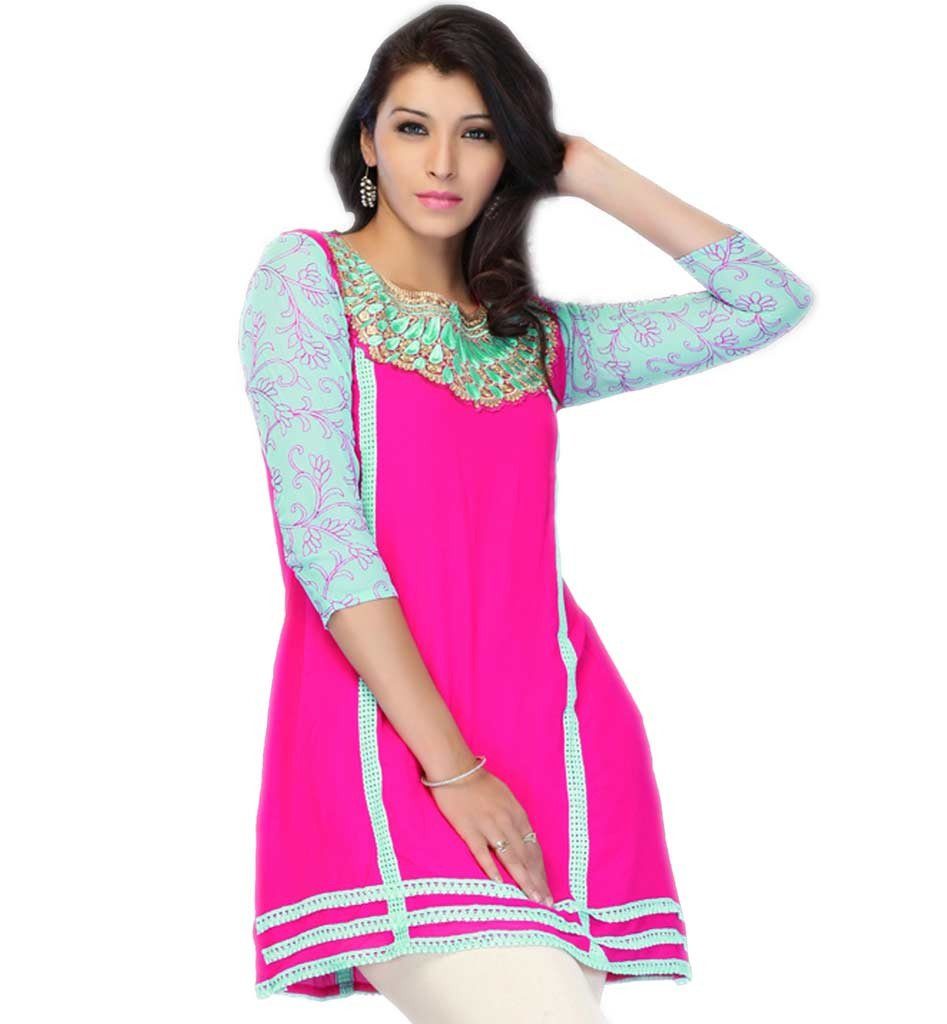 Kurtis with Plazo: Plazos are the latest up gradation of wardrobes in the market. They give a classy look and the best thing about them is that they suitalmost any sort of figure. Though, they look the best on tall ladies but anyone can carry them with ease. Kurtis go so well with them that this combination have actually become the most preferred everyday clothing for women. Plazos go well with long Kurtis having long cuts on both sides. This combination is very comfortable and is not body hugging, which is why it's good for summers as well.
Kurtis with leggings: When it comes to wearing Indian formal clothing, the only thing that comes after Sarees is Kurtis with leggings. The business of making leggings of different colours is becoming too lucrative now a days. This combination is worn by women of all ages and also worn in formal environment like schools and offices. Different kurtis design can be worn with a legging, which makes the whole outfit very catchy and attractive. Depending upon the design and style of Kurtis, they can give a formal, ethnic or casual look.
Jeans and Kurtis: The fashion of Kurtis started among the youth with the jeans only. Many of us, still have the notion that people who are creative or are artists, only wear kurtis with jeans. But this is not true. Today women of all age group wear the combo. The jeans keeps them energetic and look younger while Kurtis add the element of ethnicity and style. Many girls prefer to wear Kurtis as a replacement of t shirts above low waist jeans as well.
Jeggings: jeggings are the new in-thing. They are mostly made of soft denims and give a more active feeling as compared to leggings which are soft and super comfortable. Leggings are colourful but jeggings comes in shades of blue mostly. People buy them because they can be used below t-shirts as well as kurtis of all lengths. Leggings don't come with any design but jeggings have different designs as well. It is indeed necessary to have at least one jegging in the collection. On the hip and upper thigh area, they give a better look and unlike leggings, that area need not be covered by Kurtis.
Patialas: Patialas are always comfortable, and these days they are coming with elastic waist instead of strings, which adds on to the comfort level. Wear them on occasions where you need to look bubbly and feel energetic. They go along well with short sized kurtis instead of the long ones. As far as the prints are concerned, Kurtis with bright prints and full of pattern and designs are chosen above one stark coloured patiala. They can make you feel cool and easy, so chill!